Bob Janes Inducted into Alaska Table Tennis Hall of Fame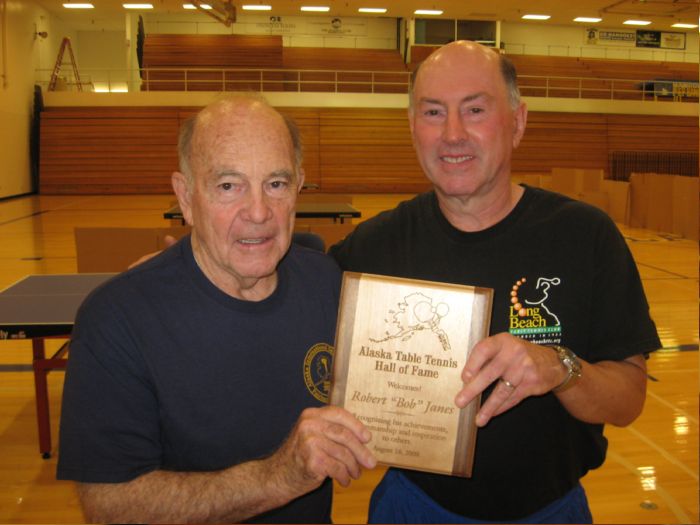 Mr. Robert "Bob" Janes has promoted Alaskan table tennis for over 40 years, beginning in 1966 at the University of Alaska Fairbanks (UAF) and continuing today.
Bob was first introduced to Table Tennis as a junior high student in Illinois. During the school lunch hour the activity choices were table tennis or dance. At the time the girls dominated the dance floor and Bob became a fan of Table Tennis. While the opportunities were limited in high school for Bob to play table tennis, Bob picked the game up again while a student at UAF.
At UAF Bob was frequently found at the dorm tables at Lathrop and Stevens, where Bob and friends had heated battles. While a student at UAF, Bob, the Campus Champ, organized a small group of student players and traveled to the Anchorage area. Here they met up with the Alaskan Hall of Famer, Boyd Bennett. With some instruction from Boyd, Bob's game rose to a new level. He was selected by Coach Bennett to represent Alaska in the first Arctic Winter Games, held in Yellowknife, Canada in 1970.
As a coach for the 2002 Alaska Table Tennis Team in Greenland during the Arctic Winter Games, Bob explained to those team members that the Greenlandic and Russian teams have probably been practicing all year in preparation for those games. However, our young team members may have only trained for three weeks, therefore Bob wanted everyone to play hard, but have "fun." His players took his advice, represented Alaska well, and earned some "good sportsmanship" awards.
Bob continues to be an excellent example for young players, not only because of his flawless backhand, footwork, and steady play but because of his sportsmanship. Due to Bob's inspiration and willingness to teach young players, Juneau players continue to win spots on the Arctic Winter Games Table Tennis Team and represent Alaska internationally.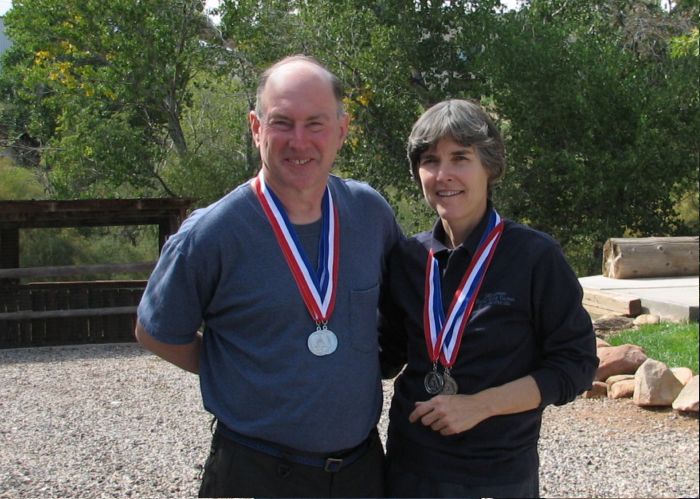 As a player Bob competes in tournaments both in Alaska and outside. Over the years Bob has won many medals at tournament in single, doubles, and mixed doubles. In October 2008 he will participate in his fifth straight "Huntsman World Senior Games" in St. George, Utah. In 2007 Bob came home with several medals, as he took the gold in the under 1600 rating class and bronze in both the men's doubles (Andy Hutzel partner) and mixed doubles. Bob has consistently improved his game, with his USATT rating at a lifetime high of 1624. However, more importantly Bob is such a gentleman that everyone he comes in contact with leaves with a very favorable impression of Alaska.
Bob received the nick name "Juneau Junk" from his friends since he has become one of the top players using long pips. Armed with a quiet non- assuming personality (until the match begins), Bob's table tennis game is built around his never-failing "backhand under spin" (chop stroke). His opponents find "Junk's" backhand is almost impossible to penetrate and win a point outright. Long pips are not easily mastered and Bob is in the top of his class with his unique style frustrating many higher ranked players. His unique style utilizes excellent footwork, deceptive returns, and quick attacks which has made him a fierce competitor. "Junk" is 62 years young, still improving his game and looking forward to his next tournament.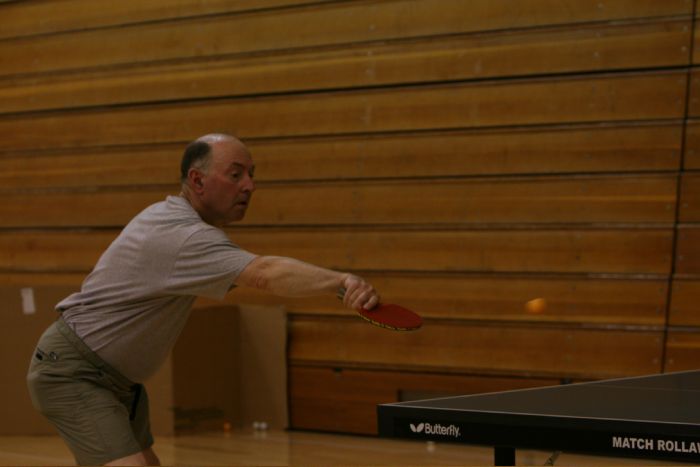 The table tennis players of Alaska welcome Robert "Bob" Janes as a member of the Alaska Table Tennis Hall-of-Fame.