Alaska Table Tennis Inducts First Member Into Hall Of Fame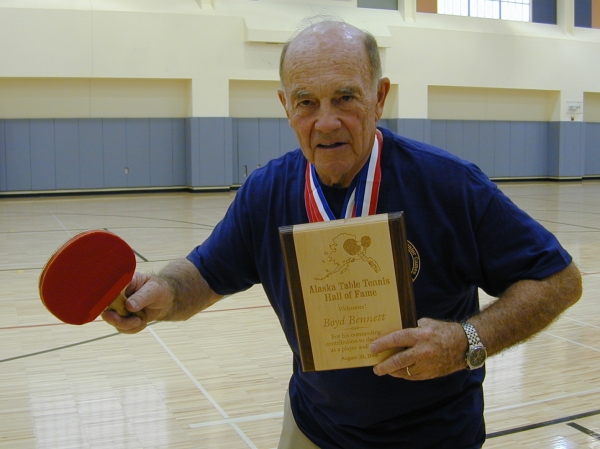 Boyd Bennett of Eagle River became the first member of the Alaska Table Tennis Hall of Fame in August 2005.
Growing up in rural Pennsylvania on a farm, Boyd had limited exposure to sports. However, while in military service in 1947 Boyd began learning about Table Tennis. As his interest and skills improve so did his competition. Tournaments in England and the United States soon saw Boyd as a top competitor.
By 1966 Boyd moved to the Anchorage area. Over the past 4 decades Boyd has continued building the sport in Alaska as a player, league president, Arctic Winter Games participant and coach. Boyd left his mark on the first Arctic Winter Games in 1970, in Yellowknife, Canada by captured the gold in men's table tennis singles for the Alaska Team. As both a player and a coach, Boyd has always enjoyed helping individuals raise their competitive talent level.
Since Boyd started playing table tennis, there have been technological changes in the paddle, often times called a "racket". A multitude of different sponges and pips really make it challenging to read the spin the opponents can now put on the ball. In adapting to the technology changes, Boyd still uses a pips-out racket to counter the spin. While often considered a defensive player, Boyd confesses, "My defensive game is my strongest; however I still love to play for a good kill shot." Because of his versatility, Boyd constantly keeps his opponents in suspense of his return shots.
In 2005 Boyd won the Alaska International Senior Games State Championships in singles and men doubles, which qualified him to compete in National Senior Games. June 2005 found Boyd representing Alaska in Pittsburgh, Pennsylvania at the National Senior Games. According to Bennett, "Table Tennis is excellent exercise for older people. I enjoyed playing in the Senior Games because everyone was having a good time and happy to be participating. Even though they played very competitively, they played for fun!"
August 20, 2005 once again found Boyd competing in Fairbanks at the Alaska International Senior Games State Championships. Boyd captured first in Men's Singles age 75-79, second in Men's Doubles with Mark Wade in the 55+ division, and first in Mixed Doubles with his wife, Shirley, in the 55+ category.
Boyd continues to love the sport and hosts the Eagle River Table Tennis Club in his recreation room on Saturday Mornings. Boyd is always eager to talk table tennis and welcomes players from around the state to play whenever they are in the Anchorage area.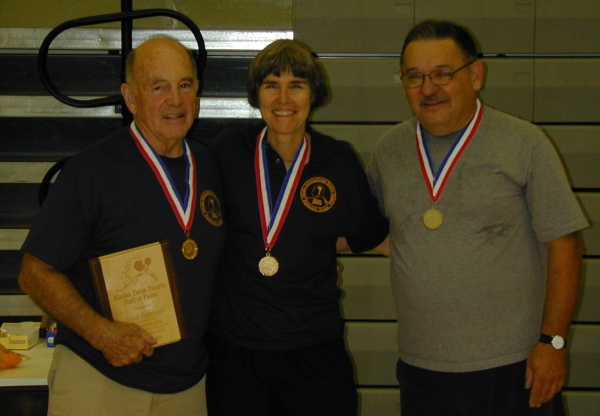 Boyd Bennett accepts the Alaska Table Tennis Hall of Fame Award
From Committee Members Diann Darnall & Andy Hutzel
August 20, 2005