Table Tennis Titles Claimed
Sixty-one hard fought table tennis matches flowed through the Patty Gym on Sunday afternoon the 25th during the FITT March Classic Table Tennis Tournament. Fifteen participants from 17 to 60 years old challenged each other for a share of the $250 prize money and bragging rights. The events included Women's Open, Men's Open, Hardbat Random Doubles, and Hardbat Singles. Both the Women's Open and Men's Open were played under the point system. Under this system the top player starts with one negative point for every 50 rating points difference between the players. The point system keeps the games closer and provides a more even footing for competition.
Vista Volunteer, Shannon O'Neil, successfully defeated Maida Buckley (3-2), Carol Johnson (31), and Linda McNamara (3-0) in Women's Open Division. Shannon's consistent backhand and sharp placement helped her overcome the spot she gave the other three players and brought her first place honors. Maida, Carol, and Linda tied for second place with each posting a 1-2 match record. Maida Buckley took home second place by compiling a 7-4 game record. Third place went to Carol Johnson with a 5-8 game record.
Participants in the Men's Open competed in two round robin pools with the first, second, third and forth place finishers playing their counterparts from the other pools. In pool one UAF student Nathan Ayotte surfaced in first place by defeating Bhaskar Neogi (3-2), Ken Risse (3-1), and West Valley Student Sam Schmoker (3-1). Placing second was Bhaska with an overall 2-1 match record. Third was Sam Schmoker 1-2 match record and fourth was Ken Risse.
The second pool of the Men's Open Scott Kohlaas, from Anchorage, finished first with a 3-0 match record. Second in the pool was Eric Carvalho 2-1. Third was Domingo Gomez 1-2, and fourth was Jerry Smith.
The title match in the Men's playoff was outstanding with long rallies between Nathan Ayotte and Scott Kohlaas. Nathan took command early, winning the first 2 games 11-5, 11-9. However, Scott regrouped and bounced back to take 3 straight games capturing first place in the Men's Open. Finishing 3rd was Bhaskar Neogi 3-1 over Eric Carvalho. Fifth place was Domingo Gomez 6-11, 11-8, 7-11, 12-10, and 11-7 over Sam Schmoker. Seventh place went to Ken Risse topping Jerry Smith 13-11, 8-11, 11-4, and 11-4.
In the Hardbat Random Draw Doubles Event six teams competed in three pools to determine the playoffs. Each match consisted of best 2 of 3 games with each game going to 21 pts. The team of Nathan Ayotte and Chirk Chu went undefeated to capture first place followed closely by Scott Kohlaas and Shannon O'Neil in second. Third place went to Jerry Smith and Maida Buckley. The remaining teams finished in order Linda McNamara/Diann Darnall, Ken Risse/Chris Silks, and Lloyd Hilling/Carol Johnson.
The final Event of the day, Hardbat Singles, had three preliminary round robin pools of three each and three playoff pools for placing. Arriving out of the preliminary pools in first place were Scott Kohlass, Diann Darnall, and Nathan Ayotte. Scott was victorious winning two straight games over Diann (21-8, 21-18) and Nathan (21-10, 21-11). Nathan took second place over Diann (21-17, 21-14). Placing fourth was Sam Schmoker, fifth Jerry Smith, sixth Ken Risse, seventh Chris Silks, eight Shannon O'Neil, and ninth Chirk Chu.
The Fairbanks Interior Table Tennis club plays at the Patty Gym and is open to all men and women interested in playing table tennis. New players are welcome! This week the club will be playing Monday, Tuesday, and Thursday from 7-9 pm and Sunday from 3-6 pm. More information can be obtained from the club website at http://freecal.brownbearsw.com/FITT.
Photos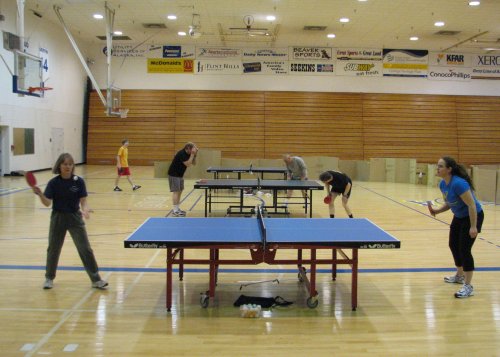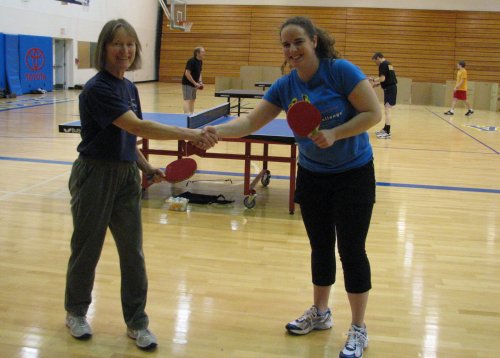 Carol played against Shannon in the Women's Open.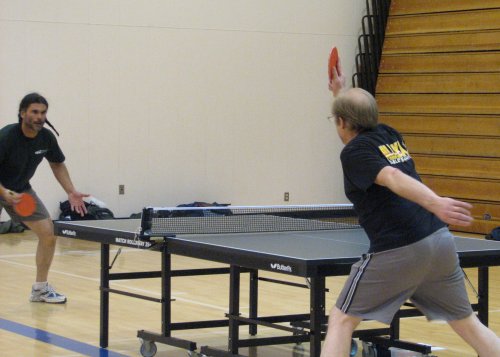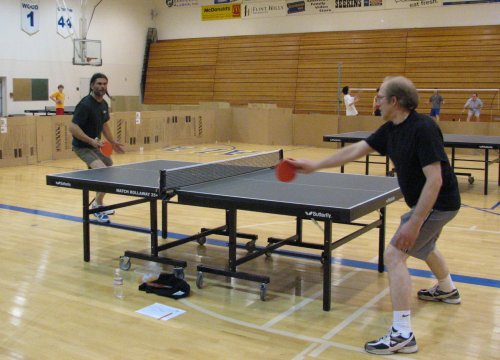 Chris challenged Ken in the Hardbat Singles Open.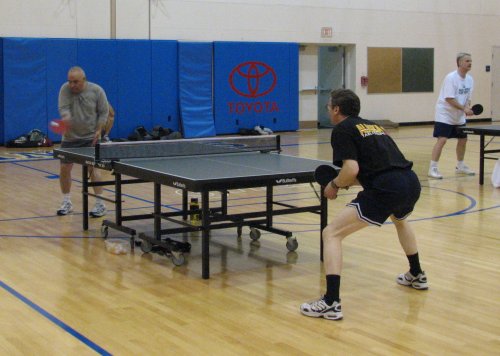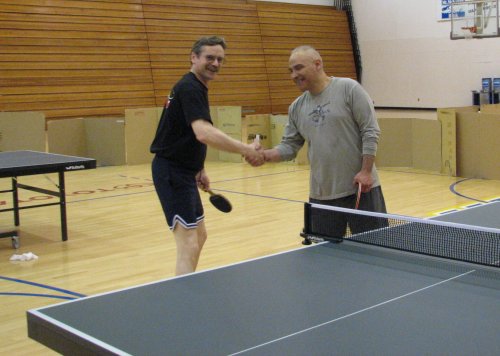 Domingo battled Jerry in the Men's Open.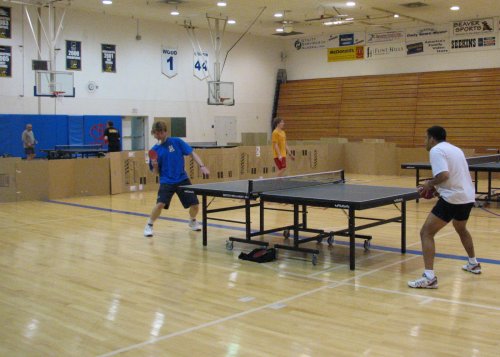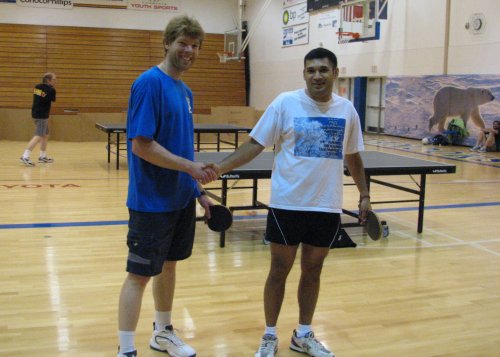 Nathan edged out Bhaskar in the Men's Open.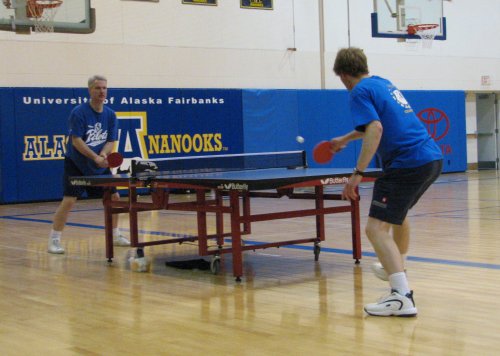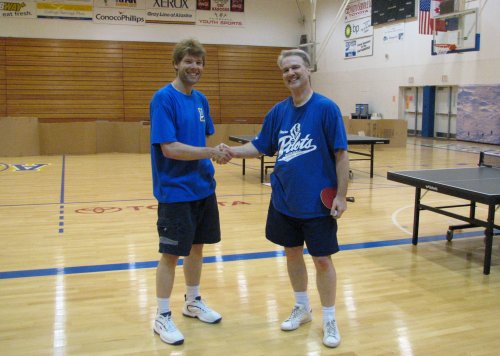 Scott overcame Nathan and won the Men's Open.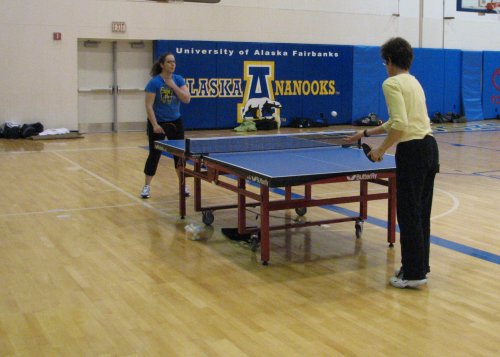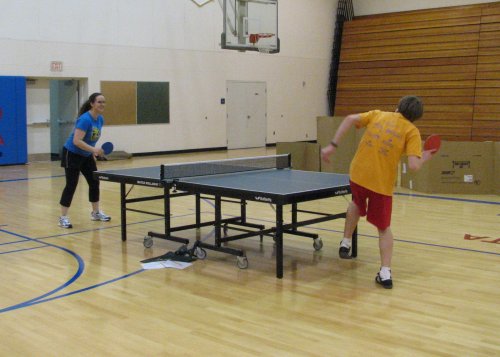 Shannon took on Maida and Sam.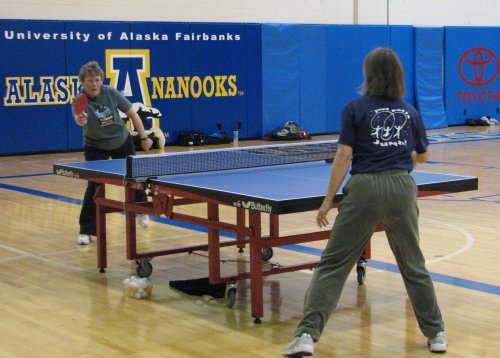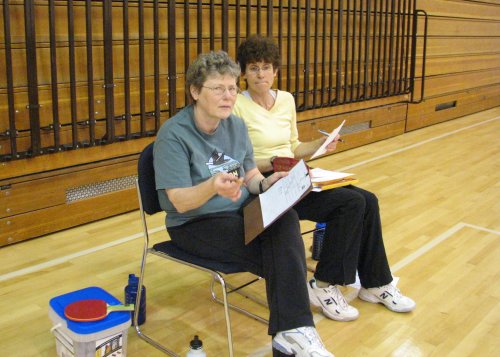 Linda showed her best shot to Carol and took a pause with Maida.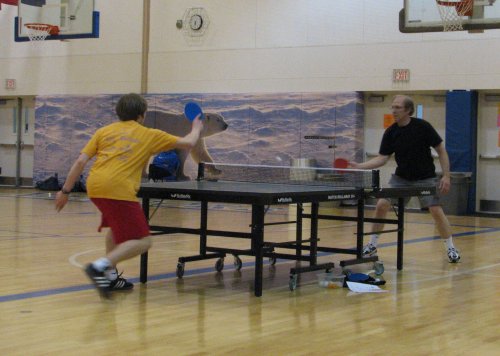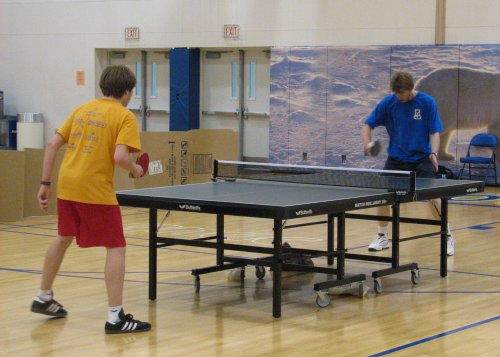 Sam flexed his muscle against Ken and Nathan.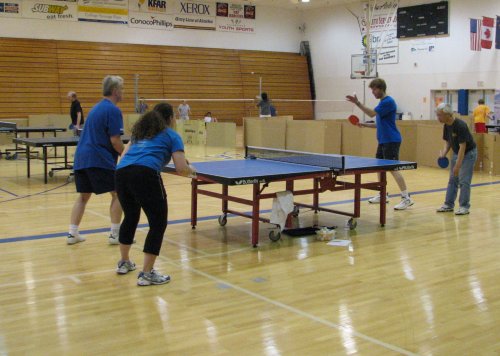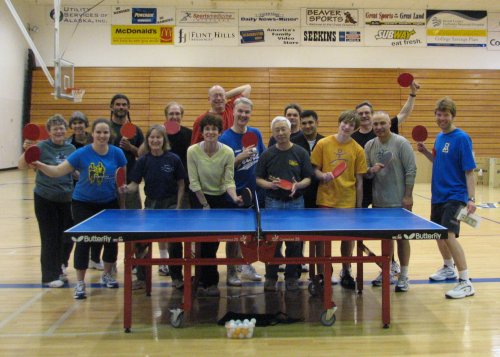 Random Doubles final and a group picture of all participants.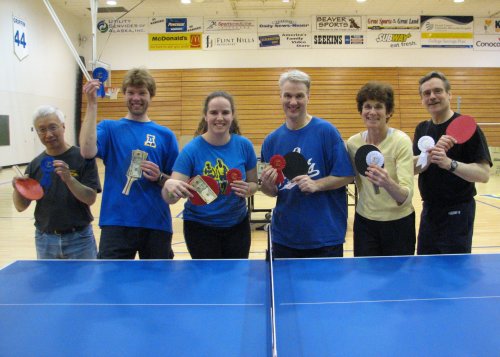 Singles winners and Random Doubles winners showed off their ribbons.